Artsit-in-Residence, Asuka Art Village, Nara, Japan.
Exhibition 'round trip' at Asuka-ni-imasu Shrine in Asuka.
奈良県明日香村飛鳥アートヴィレッジにて、滞在制作。
展覧会「回遊 round trip」飛鳥坐神社・神楽殿(明日香村)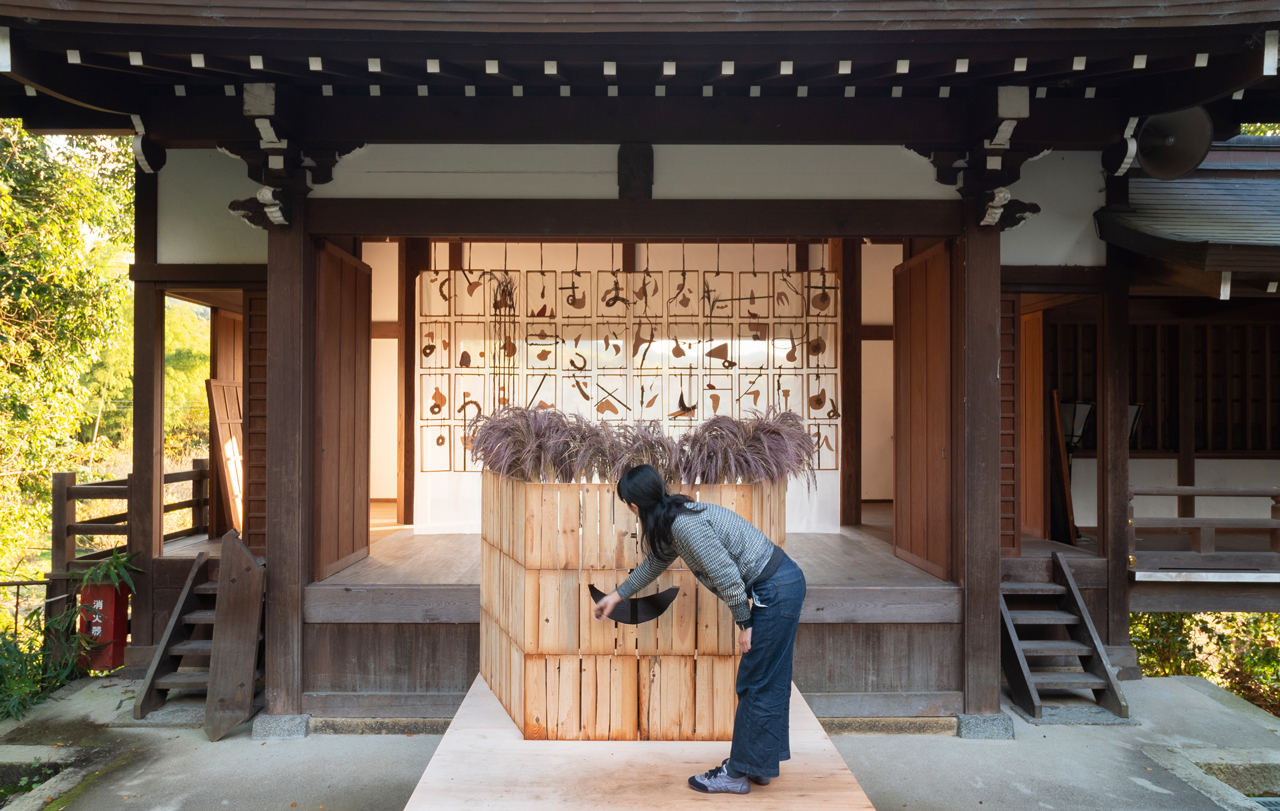 Photo by ヤマダユウジ
'A' 'Ka' 'Sa' 'Ta' 'Na 'Yu' 'Ha' 'Mu' 'Fu' 'Yo' 'To' 'Te'
–wood for strawberry boxes from Mr. Matsubara, ancient rice from Mr. Segawa, fan from Mr. Hanai, bamboo from the shrine, straw rope, hemp cord, rice bag, interfacing, clay, thread
This work is composed of the 'surrounding elements' of tools and places.
When one old tool becomes outdated and discarded, 'surrounding elements', like the movement to use the tool also disappears. At the same time, the technique to customize the tool, the scale that the tool represents, or the senses to use the tool may also disappear.
During the stay in Asuka, I visited several houses doing agriculture. After watching old tools which used to work in agriculture, I decided to re-locate the 'surrounding elements' of those tools and materials in my artwork. For example, the measurement of the box, the movement to turn the fan, or the friction of tying straw ropes, etc.
Another 'surrounding element' is about the space of a shrine. Shrine is a place for people to do the motion of praying, – bow twice, clap twice, and bow once. Usually the result of praying doesn't appear clearly, but still the time itself at the shrine often has a big importance for our mind. I picked up these elements to my work, by creating a device which enable viewers to make motions, which might cause effect to something, but maybe not, and at least gives viewers the physical experience.
These several kinds of 'surrounding elements' are now combined in the artwork through representing 'Hiragana'. Hiragana is one kind of Japanese letter to write down the sound of Japanese. The shape of the letter is now sometimes separated into pieces by the viewer's motion, and sometimes just effected by the natural wind blowing through the shrine.
– – – – – – – –
「てとよふむはゆなたさかあ」
– 松原さんのいちご箱の材、瀬川さんの古代米、花井さんの扇風機、神社さんの竹・笹、
わら縄、麻ひも、米袋、接着芯、粘土、糸、森林組合さんに作っていただいた台
明日香村では、農業を営む方のお宅や蔵などを訪ね、古い農機具や今も使われる道具、またそれらに関連する日々のお話を伺う。ある道具が新しい素材や技術で更新されると、古い道具の多くは使われなくなる。同時に、その道具を作る木や竹や藁などの素材の特徴や、補修・改造をする技術、物の規格、扱うときの手や身体を動かす感覚など、道具それ自体と共に消えていくものがある。
神社という祈りの場所にも、一連の決まった形の道具や、祈りのための動作がある。祈りの道具や動作は、農業の作物を生み出すための道具や動作と、少し違うところに働く。そして、農業よりももう少しだけ変化しにくい。
これまで多くの人が、「あ」と「す」と「か」という音の並びを、この土地を言い表すために使用してきた。音を表す「かな」は、日常に溶け込む音を表す道具であり、かたちを変えながら今も使われる。
徐々に使われなくなる道具や素材・行われなくなる動作を用いて、今も使われる音のかたちを様々になぞる。それらを神社という祈りの動きの空間に組み込む。時計回りに参拝してから、最後に時計回りにハンドルを回してみる。
神社で祈るときと同様、何かは変わり、何かは変わらない。