Works at the group exhibition, 'Wonderful Jewelry' Gallery Yu-Ei, Osaka.
木彫の装飾品・及び什器の制作、グループ展「ワンダフルジュエリー」ギャラリー佑英、大阪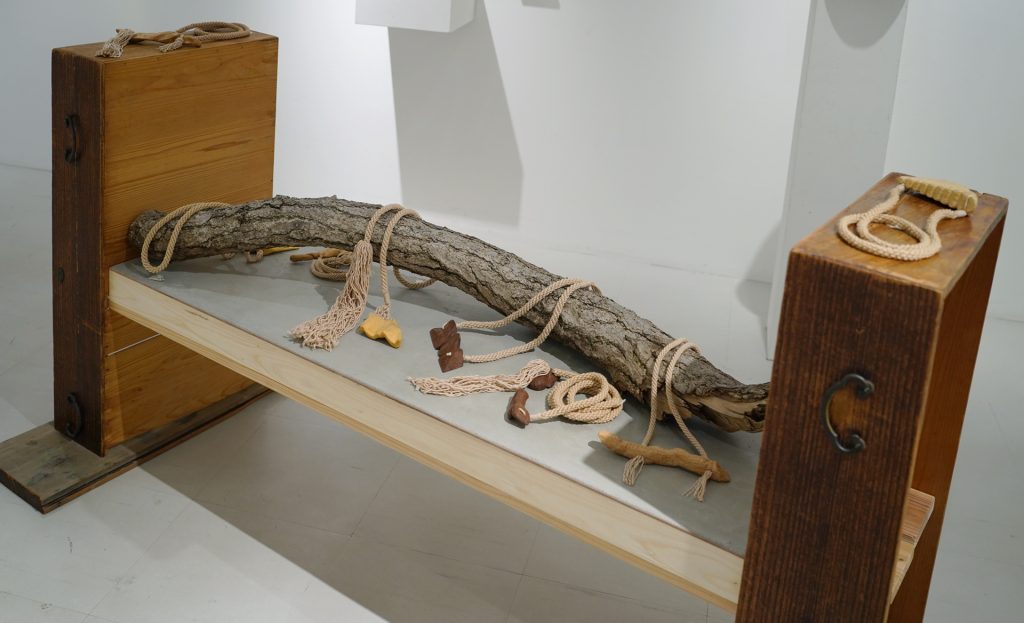 –wooden sculpture, knitted cotton cord dyed with tea, wooden drawer, cement plastered table top
–木彫、編んで染めた綿糸、古家具のひき出し、モルタル打ちの天板
木彫と編んだ綿紐の組み合わせで、色は控えめだが質感の多様なネックレスを制作した。
日頃扱わない装飾品の展覧会への参加に向け、感染症による影響もあり外出のために着飾ることの減った祖母(90代)や母(60代)が、日常と非日常の間で身に付けたくなるような装飾品を目指し制作を行った。

These works are aimed to create sculptures that can naturally encourage the feelings to dress up.
The work started from a conversation with the grandmother of the artist who was now in her 90's. One day she said, 'I won't do a makeup anymore. If I walk around the neighborhood with a makeup, people will say that I must be going senile and showing an seductive behavior to everybody.' 
Her words made Tsukuda think about how she can encourage her grandmother to enjoy dressing up without limiting herself. Tsukuda decided to make accessories with natural wood without painting colors and carve the woods impressive enough to cheer her to dress up. The cotton cord is dyed with a soft color and knitted simply, and is long enough to put on without effort.
The photos are artist's mother and grandmother, showing how they can dress the 'sculpture' differently.